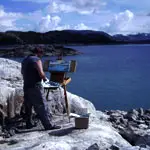 Ansgar Skiba
NATUR
Garten, 2013
Feuerlilien, 2014
Seerosen, 2015
geboren 1959 in Dresden
lebt und arbeitet in Düsseldorf
1974 - 1978 Abendstudium an der Hochschule für Bildende Künste Dresden
1981 - 1982 Studium an der Hochschule für Bildende Künste Dresden
1983 - 1988 Studium an der Kunstakademie Düsseldorf
bei Rolf Sackenheim, Michael Buthe und Gotthard Graubner
1989 - Arbeitsstipendium der Hedwig und Robert Samuel-Stiftung, Düsseldorf
1993 - Arbeitsstipendium der Kunststiftung Rotterdam und der Stadt Düsseldorf
Einzelausstellungen 2016:
Kunstverein Coburg
Galerie Schloß Neersen, Willich
Kleine Galerie, Bad Waldsee
Kunstverein Meerane
Galerie Weise, Chemnitz
Galerie Hovestadt, Nottuln
Galerie Pfaff, Schwarzenbruck
Turmgalerie Schloss Augustusburg
Sundermann Fine Art, Würzburg
Kunstverein Hockenheim
ANSGAR SKIBA . NATUR
Der in Düsseldorf lebende Maler Ansgar Skiba befasst sich in seiner Malerei seit früher Kindheit mit dem Thema Natur. Die bildfüllend dargestellten Motive von Gletschern, Wellen, Seen, Gebirgslandschaften und Gärten verwandeln Naturenergie in Farbenergie und schildern gleichzeitig die verschiedenen Zustände des Lebenselixiers Wasser. Das Fließen eines Gletschers oder die schäumende Meeresbrandung werden durch die farbintensive, haptische Malerei für den Betrachter hautnah erlebbar. Pastose, reliefartige Kaskaden- und Kurvenformen lassen den Eindruck von kraftvoller Bewegung und rauschhaftem Erleben entstehen.
Skibas Motive vereinigen in exemplarischer Weise alle ihm wichtigen und für seine Malerei typischen Eigenschaften: Gegenständlich archetypische Motivik - reinfarbliche Koloristik - flächige Tiefenräumlichkeit - reliefhafter Farbauftrag und haptische Präsenz - Kraft, Dynamik und Sinnlichkeit - Vermeidung alles vordergründig Inhaltlichen und die Verschmelzung des Dargestellten mit der Bildfläche zu einer Identität.
Since the middle of the 1990s, painter Ansgar Skiba, who lives in Dusseldorf, has concentrated on the theme of water in his paintings. His canvas filling motifs of glaciers, waves, lakes and mountain landscapes transform natural energy into the energy of colours whilst at the same time depicting the various states of the elixir "water". The flow of a glacier or the foaming surf of a stormy sea can be closely experienced by the beholder through the intensive colouring and haptic painting. Paste-like, raised cascades and curves create the impression of powerful movement and exhilarating experience.
Skiba's motifs exemplarily combine all the typical qualities which are important for him in his work: figurative archetypal motifs - undiluted colouring - plane spatiality - raised painting and haptic presence - strength, dynamic and sensuality - avoidance of all ostensible substance - and the fusion of the pictured object and canvas into one entity.